Our History
S.O.D.A. (Serve Our Dog Areas) became a 501(c)(3) non-profit organization in 1995 in order to fulfill our mission to steward, maintain and operate the Off-Leash Recreation Area at King County's Marymoor Park in Redmond.   In the year 2000, S.O.D.A. took on a new goal:  To establish an Off-Leash Recreation Area in South King County.   Three years later our dream came true!  For the first time in recreational history, S.O.D.A., King County and eight cities (SeaTac, Kent, Auburn, Renton, Burien, DesMoines, Federal Way & Tukwila) joined together to transform 37 acre Grandview Park into a regional Dog Park.  Closed for over two years, it took over 865 hours of hard work by volunteers organized by S.O.D.A. to get Grandview ready for its October 4, 2003 "Opening Day".
Our Grandview Goal
Today S.O.D.A. has a very important goal:  To develop a responsible stewardship group for our Grandview Dog Park.  In 2004, S.O.D.A. signed a ten year agreement with the City of SeaTac to maintain and operate Grandview.  In addition to maintenance costs, S.O.D.A. must pay for unlocking & locking the gate, emptying trash cans, sani-can service, purchasing plastic "pick up" bags, and water for the fountains.  These costs run about $10,000 per year. We need the people who use and love Grandview Dog Park to make a long term commitment to Grandview by supporting S.O.D.A. with their annual membership contributions.
The Park User's Role
"What can I do?" you might ask.  Read the list of DOGGIE DO'S, follow them and encourage new park users to do the same.  Join S.O.D.A. so we have the funds we need to take care of our park.  Volunteer – your time and dedication are our most valuable asset!  Remember that the Off-Leash Area is a valuable resource and treat it with care and respect at all times.
Grandview – A Gift to Cherish!
Since Grandview's opening day in 2003, S.O.D.A. volunteers have donated over 2,700 hours of volunteer labor building fencing, clearing brush, planting native trees, and building a stairway, new kiosks and benches.  Maintaining and improving the environmental integrity and the aesthetic beauty of Grandview is an ongoing mission that will enable us to keep off-leash recreation thriving on this 37 acre parcel of land that we were so fortunate to have provided to us for use as an off-leash dog park.
See Grandview in the beginning!   Filmed October 2003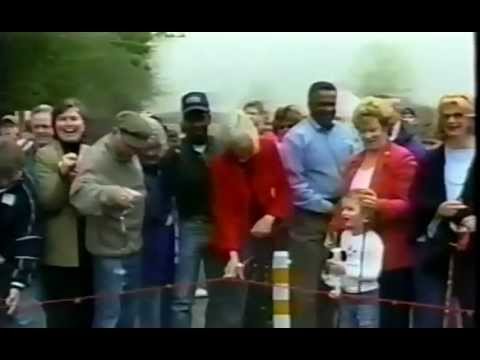 Please help us keep off-leash fun and activity at Grandview by joining S.O.D.A.!